Original Publication DATE: 3/21/2010
Surely one of the most beautiful rivers in the state of California, this wild and untraveled stretch of the South Fork Trinity River is a special place to visit. South Fork Road ends 11 miles from where it begins at the junction of the South Fork and Main Fork, and for over 10 miles, runs wild and free from human disturbance–upstream to the isolated hamlet of 
Hyampom
. The entire
South Fork of the Trinity River
is designated as wild and scenic, but the Hell's Half Acre section is the epitome of this wild and scenic designation.
The trail, known locally as Hell's Half Acre, is one of the preeminent early spring wildflower destination in Northwest California. The main reason is its low elevation–generally below 1500 feet–but it also offers distinct alternations in slope and aspect. The trail moves from north-facing mixed evergreen forests with lush understory of shade-tolerant lilies to oak woodland-grasslands with proliferations of wildflower meadows on the south-facing hillsides. With this in mind, Allison and I paid a visit here on the spring equinox and what we found was beyond our expectations–spring is here and Hell's Half Acre is showing in all its glory. All photos by Allison Poklemba (she would not let me have the camera on this day!).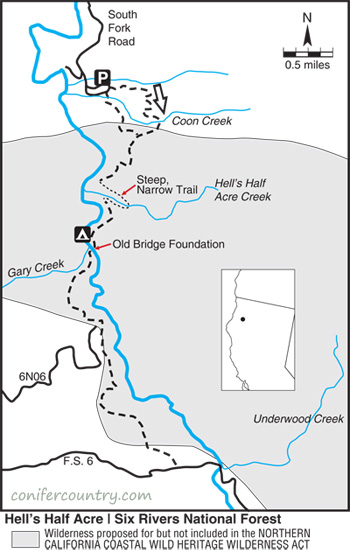 COMMENT:
AUTHOR: Allison
DATE: 3/21/2010 5:18:55 PM
Nice pics! Also note the lacepod (Thysanocarpus curvipes) in the last photo. In my opinion, this is the most beautiful member of the Brassicaceae.
—–
COMMENT:
AUTHOR: Brooke
DATE: 3/22/2010 2:56:30 AM
Nice!
—–
COMMENT:
AUTHOR: Zach
DATE: 3/23/2010 8:02:44 PM
Michael: Love your photos. I'm a novice nature photographer. Would you share some details re: the camera settings, filters etc you used for any one of these shots? Keep up the good work. zach
—–
COMMENT:
AUTHOR: Michael Kauffmann
EMAIL: michael_kauffmann@yahoo.com
DATE: 3/24/2010 4:22:58 AM
Zach- My wife took all of the shots this day…if you right click the image and "save as" you can look at the properties of the picture and see the settings. We have no filter for our camera but shoot with a Canon Rebel xTi, which takes terrific pictures. Good luck and thanks for checking out the blog.
—–
COMMENT:
AUTHOR: Lauren Lester
DATE: 3/29/2010 3:46:30 PM
Allison thanks for sharing this site. I looked at them all!! I appreciate the passion you share with all these favorite places. Now I see what our paintings bring in common.
—–
COMMENT:
AUTHOR: boz
DATE: 10/19/2010 3:40:00 AM
I went up the south fork with my bride, now wife, forty two years ago. Brings back memories.