pərmyo͝oˈtāSH(ə)n
The action of changing the arrangement, especially the linear order, of a set of items (what came first, the conifer or the cone?)
---
Wandering Devil's Hole Ridge, miles from anything human, the landscape shifts as quickly as the juncos dancing across the trail. Walkabouts bring a level of focus not found in civilization. Walking offers time to hypothesize about the world at a slower pace…How recently did the vegetation patterns I see come to be? When did the Ash-throated flycatcher arrive from its tropical winter-land? How did I find myself in this desolate, isolated place–seven years after I last visited–and so far from my family? Like the undulating contours on the ridgeline, I ponder my place in this dynamic world. Walking further I realize, while out of place, I am fortunate to be here with time to think.
Seeing the trees through the forests, the birds in those trees, and then this vast landscape through my astigmatized-wide-angle glasses; thoughts swirl through my mind. The first few hours allow time to come to terms with my isolation and my body's age (I'm moving slower than when I was here in my 30's). Slowly my mind settles into place, in the wilderness. I ponder plant migrations and vegetation patterns as a student of biogeography. A few miles later my mind drifts towards systems of order (and disorder) that are established out here. This is where true place-based interpretations begin to solidify: my understanding of wilderness and how I'll never truly fit in among it. Then comes the delineation of rarity. I am a rare human here–among the trees, sky and soil–but this fanciful journey is for the rare plants of the Yolla Bolly-Middle Eel.
Western junipers (Juniperus occidentalis) tell stories of an arid existence with a connection to the Great Basin. Foxtail pines (Pinus balfouriana) reflect an ancient connection to the Sierra Nevada. Western white pines (Pinus monticola) and quaking aspen (Populus tremuloides) echo the tales of plant migrations between the Klamath and Rocky mountains. Were these species more common here long ago to have become rare with climatic changes? Are some becoming more common as our climate warms? Have the white firs and Douglas-firs dominated the cool, moist north-facing glades longer? How long has fire played a part in the ponderosa and Jeffrey pines distribution across the mountain ridges? The following are 5 permutations, algorithmically arranged–linearly juxtaposed–for your visual and biological pleasure.
---
5. Bigfoot Trail
It had been six years since I last walked this stretch of trail. The first time I found myself hear was 10 months removed from a landscape-altering fire. It was more black and white then–with only intact forest and burned forest. In areas where the trail burned, so had the undergrowth. In 2009, it was smooth sailing along the Devil's Hole Ridge–but not in 2015. Ceanothus, manzanita, and an assortment of bunch grasses have, over 6 years, swarmed the understory in a successional race for dominance. Match-stick conglomerations of downed trees covered sections of trail now, bending and ultimately falling, with winter winds. This made the trail, in several stretches, nearly impossible to find. Another job for the Bigfoot Trail Alliance! But, as I slogged along and sliced my shins, I was thankful for my time here, for my experiences of place, for having experienced this landscape in two dynamic phases.
---
 4. Riparian Canyons
In stark comparison to the dry ridgelines of the north-central Yolla Bolly-Middle Eel Wilderness, there are springs in canyons just below that feed the headwaters of major northwest California rivers like the Mad and Eel. Thank goodness. The springs crossed by the Bigfoot Trail are the headwaters of the Eel River–where they are far enough from humans that their sanctity is intact, unavailable for feeding the green-rush further downstream in the Emerald Triangle. These oases where a-flush with blooming wildflowers fed by verdant streams. Cool glades with names like Frying Pan, Cedar Basin, and Devil's Hole provided hydration and shade–time for me to go crazy in peace.
---
 3. Western Junipers
Ah, yes. That little slice of the Great Basin in the Coast Range. I originally collected specimens and mapped some of these isolated populations in the fall of 2009, after hiking the BFT and "discovering" range extensions here. Originally described from the southern part of the wilderness on Soldier Ridge, it appears the range is more extensive–growing on arid rocky slopes all the way to the Eaton Roughs of Humboldt County. Seemingly far-displaced from the population center in the desert to the east. The species flourishes in the North Coast Range on arid, rocky, south-facing ridgelines.–probably brought here millenia ago in the bowels of adventurous Townsend's solitaires where the perfect poop in the ideal habitat has allowed them to flourish.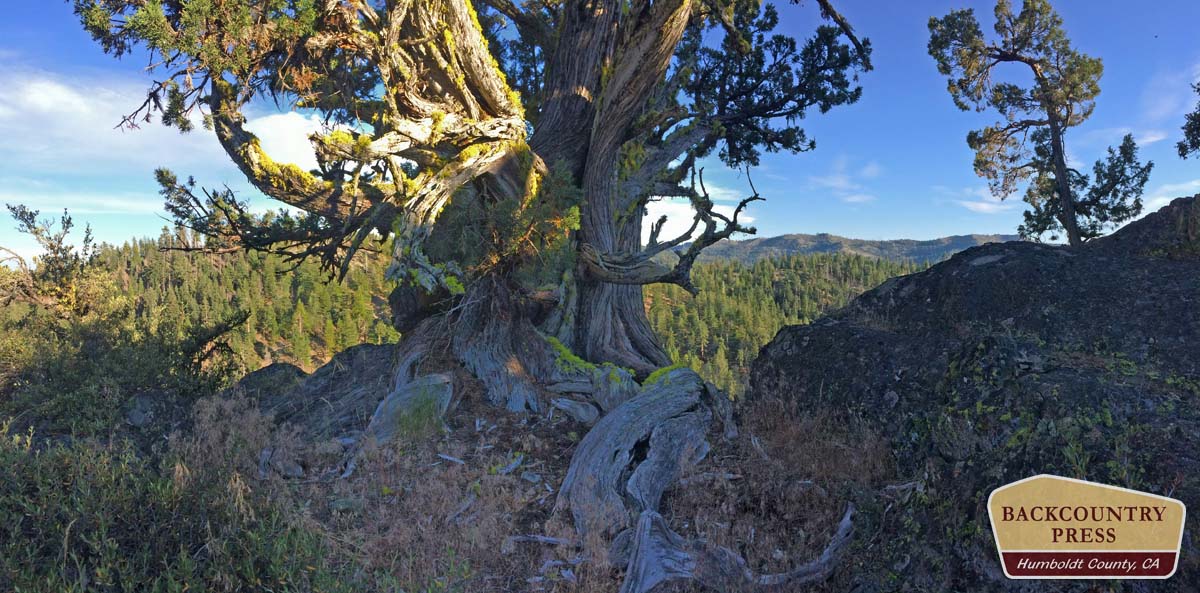 ---
 2. Fire-return intervals
It is clear, after spending any time at all in the Yolla Bolly-Middle Eel Wilderness, that fires play a critical role in shaping the distribution of forest trees and shrubs here. What was most intriguing to me was the relationship between ponderosa pines and the white fir/Douglas-fir/incense-cedar forests. In the Klamath Mountains, white fir/Douglas-fir dominated forests are the most common montane vegetation alliance. But in the Yolla Bolly there are, quite often, ponderosa pines mixed with at least 4 other conifers (also infrequently sugar pine). This is due to a fire regime where, after slow invasions by the firs into the pines habitat, fire ignite and subdues the less fire-tolerant firs allowing, once again, the pines to regain dominance in open, park-like settings.
---
 1. I Like Birds
I'm a better birder than a botanist. But then again, there are only about 200 bird species I could encounter here and 1,000+ plant species. I find comfort in the birds, probably because I am an animal too. It is easier to understand how we can travel across space and time in a much different manner than a plant. With that comes responsibility, though. We are vectors for good (Townsend's solitaires could well have originally brought the junipers to the region from the Oregon desert in the recent past) and purveyors of bad (human's landscape alterations are responsible for the decline of the Olive-sided Flycatcher in western forests).
We are all interconnected and in this way we need wilderness, whether we understand it or not. I wonder when I'll be able to change the arrangement of daily life and visit the wilds again…I can only hope sooner than later.